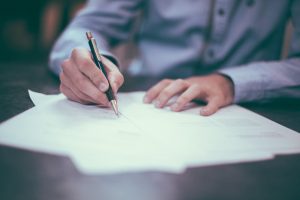 In the course of your career you may well hit this problem: your publisher either stopped answering the phone or responding to emails; no longer renders royalty statements or payments; or has actually declared bankruptcy or informed you they are insolvent.
Yikes.  
Let me divide our failing bankruptcy publisher into three broad categories:
Noble Failure.

This is a serious dedicated book lover who has tried to do right but now finds they can't succeed.

Overwhelmed Owner.

This is similar to above but in this instance life problems, illness, family, and other problems have been their undoing.

Villain.

This is someone who does not want to do right by you for whatever reason and intends on taking advantage of their authors.
I provide this sketch because it may affect how you should go about handling this thorny dilemma.
Once you sense a problem, you need to decide on an approach: work with the editor or cut ties.
Work with the editor. 
The best outcome is to establish communication with the publisher and hear from them what's going on. I've waited patiently for royalty payments sometimes and seen publishers recover and make those payments. I've also had to make the judgment that a publisher won't recover, and I have aggressively pursued reversion letters so my client can start over. 
In this early stage, be cordial but firm. Find out all you can and perhaps make an early determination – stick with the publisher and hope for the best. Or suggest it's time to revert your books and call it a day.  In all cases, be prepared for bitter medicine – you may never see your past due royalties or if you do, they will arrive very late.
Cut ties with a publisher in bankruptcy.
Should at anytime you decide to separate from your publisher, there are two things you must get, if possible. 
The first is a formal letter reverting all rights to you or terminating the contract.

This will allow you to license the book to another publisher without any legal headaches.

The second important thing you ought to pursue is the production material.

With these, you can re-publish the book at minimum expense. Get the agreement that covers the cover art and ask it to be assigned to you. If not, get ahold of the artist and try to confirm your rights.  
Always assume every book you have will be re-published and you want to do that as quickly and inexpensively as possible. Establishing communication and striking a deal with a failing publisher is the best of several unsavory options. 
Let's move on to truly bad cases scenarios.
The publisher is unresponsive. No one answers the phone. No emails are answered.  You know they owe you money but no money is forthcoming. No royalty statements are coming.  You are hearing from colleagues that this is it. The publisher is failing and no one knows what to do.  
In this case, send a contract termination letter, and make sure it demands a received-signature. It's legal validity may be suspect but at least you can demonstrate that you tried to reach them, and/or you have terminated the agreement. You could hire a lawyer to pursue them and perhaps file an actual lawsuit but unless there is a lot of money involved this is most likely not practical for most authors. 
If the publisher does simply cease operations, you are stuck. Without that reversion letter, you will have a major problem re-selling to a traditional publisher. You can self-publish and have very little exposure, but it still won't be as good as having that letter in hand.
Our concluding discussion on this topic is publisher bankruptcy. 
There are two main kinds of bankruptcy: Chapter 7 and Chapter 11. In Chapter 7, a publisher liquidates. It is almost unheard of for an author to see a penny in a Chapter 7 bankruptcy. During liquidation, the 'secured creditors' – usually a printer and a banker – get first monies. Then there are the vendors of hard goods – computer supplies, travel agents, etc. 
In Chapter 11, a judge oversees the bankruptcy. Some publishers do 'come out' of Chapter 11 and begin to fully function again. Often past due royalties are paid, or there has been a negotiation where those royalties are reduced to enable a publisher to continue to exist. It's complicated and subject to the bankruptcy court.
Key takeaways:
Monitor your publisher. If you see the warning signs, respond.

Make an early determination where this is going. If they are going to hang around, work with them to do so. If you think this is it, get that reversion or termination letter.

Get the production materials, get any cover art contracts. You are going to re-publish.
It's a miserable experience but if it ever does come your way, I hope this prepares you.