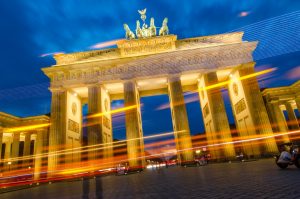 The Frankfurt Book Fair recently released "The Business Of Books," a trend report that covers changes in global book markets and consumer habits.
It's well worth a full read, so be sure to check it out. For the purposes of this blog post, though, I wanted to pull out some things of import and of course climb back up on my soapbox to encourage authors to organize their IP. 
It's cliche now to say that self-publishing has changed the entire industry. Likewise for the rise of audio. Still, take a look at the top 10 titles on Amazon in Germany and you'll get a sense of just how deep the changes already are. The top 3 properties are audio. Three of the top 10 are self-published. You'll see similar trends in France, Italy, and Spain.
The Shift From Books To IP
This is a subtle and complex shift, but it's happening and it's affecting everyone from massive tech platforms to traditional publishers to new media companies like Wattpad, to individual authors. The Frankfurt Book Fair report cites Michael Tamblyn, who argues: 
"We are facing the "attention economy", in which books and reading, authors, publishers and retailers find themselves competing against anything and everybody else that connects with the audience… Publishers' competitors, for instance, are not just other publishers, but also Netflix and YouTube." 
In a world where digital content is constantly available via smartphones, smart speakers, and wearable technology to consumers in a multitude of formats, it's all vs. all war (not to be dramatic). It's similar conceptually to the issues that social media poses to news publishers: on Facebook, a New York Times article is competing with photos of your Aunt's dog and your friends' engagement announcements.
"Already many of the biggest publishing groups have entered into cross-media content exploitation, with activities that would have been regarded as exotic only a few years ago. For several years now, for instance, Hachette has been cooperating with the authors' platform Wattpad.

In 2018, Wattpad was rebranded Wattpad Studio, underlining its intention to exploit formats well beyond books and reading. This has already materialised in deals with the Hachette parent company, Lagardère, through its own Studio division, and with the Dutch NL Film, Singapore's Mediacorp and Sony Pictures."
As you can see, the industry's leaders are beginning to build out infrastructure to quickly and effectively turn the written word into many different storytelling formats. Now, I'm not here to tell you that every title you write will be turned into every format under the sun, but with the content wars growing ever hotter, the potential that someone will come calling looking to turn your book into a short-form video series or a scripted podcast exists. 
Even so, it is possible that Netflix comes calling, and if not them, then another tech giant or venture backed platform looking for their swing at the winner-take-all piñata:
"Many outstanding film adaptations – and even more often, TV series – do not derive from current bestselling book titles." 
All of this adds up to a complex IP picture, which is why we believe it's crucial for authors to organize and index what they create.
The International Author's Opportunity
One of the most interesting tidbits from the Frankfurt Book Fair report was its analysis of the type of content streaming giants are looking to adapt: 
"Netflix has, turn(ed) to more "authentic" foreign language properties, as these can resonate well with "universal audiences". This was explained recently by Kelly Luegenbiel, Vice President, Creative International Originals at Netflix. "We'll continue to look to books to find new voices," she said, "especially as we're expanding into the African continent. There's a lot of great literature there."

Or, as New York Times columnist Farhad Manjoo summarised it, when Netflix' Mexican production "Roma" competed successfully at the Oscars in February 2019: "Instead of trying to sell American ideas to a foreign audience, it's aiming to sell international ideas to a global audience."
Non-US born authors are having their stories recognized on a more global scale, and the changes of the last 10 years have benefited this new wave of talent more than anyone. It's likely this trend will continue.
Journalists Own IP Too
In a world as strange as the one we live in, good journalism is always one step away from adaptation into entertainment formats.
"Adapting good journalism into a fictionalised story has become a common process lately. Misha Glenny, a seasoned British journalist, who started his career reporting on the Balkan wars, moved on to explore international organised crime. His non-fiction account "McMafia" was subsequently fictionalised for a highly successful TV series produced by the BBC."
Whether you are exclusively a journalist or a writer who has authored books and done journalistic work, it's important to remember that all of your written work has value and is worth keeping track of.