The advent of the internet and rise of alternative modes of enjoying books has changed the game for authors forever.
Legacy publishers built their businesses around controlling distribution to book retailers. While that infrastructure is still important, platforms like Amazon have created a new ecosystem in which authors have more potential for control and opportunities to reach new audiences.
This is a story the modern author is familiar with. But what about the not-so-modern author? Or the son/daughter of the deceased not-so-modern author? As covered in Life Plus 70 and Maximizing Your Backlist, publishing contracts include many opportunities for creators to exploit their copyrights over a book's life course, and many older authors or heirs may not be aware of the untapped value they're sitting on. Or maybe they are aware and simply don't have the time or will to do what's necessary to extract it. 
Take, for example, the story of Jason Manning. Jason was represented by Royalty Reminder founder and long-time literary agent Ethan Ellenberg. After a successful stretch writing novels in the 1990s, things began to slow down.
"In 2006 I was burned out and stopped writing for what I thought would be a short period of time. But ten years passed and by that time I thought my writing career was over."
Twenty years ago, this would have been the end of the story – not so today.
"Ethan used the insights he gleaned from Royalty Reminder regarding the status of my book contracts to revert rights back to me. I wasn't sure much would come of it but I agreed. He republished my work and my novels began to reappear on Amazon in 2015. In 2016 I earned over $150,000 in royalties and have been earning ever since. It even motivated me to begin writing new novels."
Royalty Reminder's concierge model can provide the same service to you. If you're an experienced author or heir with a backlist of titles and you want to make sure you're wringing every bit of value out of your work, we're here to help. All you have to do is send us your contracts (either in scans or in a literal cardboard box). We'll analyze them. We'll load them into our software system. We'll create digital files, proofread them, and contract cover artists. We'll publish them on Amazon and other ebook sellers as called for. And we'll do it with no upfront costs. In return we ask authors for a 30% revenue share of the future profits after deducting the cost of covers and production (no overhead is charged).  
It's not just Mr. Manning who has benefited from republication.
The Ethan Ellenberg Literary Agency has published 192 titles under the province of his literary agency through KDP agent-supported publishing. The average title earned over $3,400 in global revenue within the first year alone. For an author using Royalty Reminder Concierge, that nets out to over $2,400 per title in a single year. All the work related to re-publication was performed by the agency, leaving Authors free of all obligations. This is the same model we are proposing here.
Below is a graph representing the agency's success re-publishing backlist titles.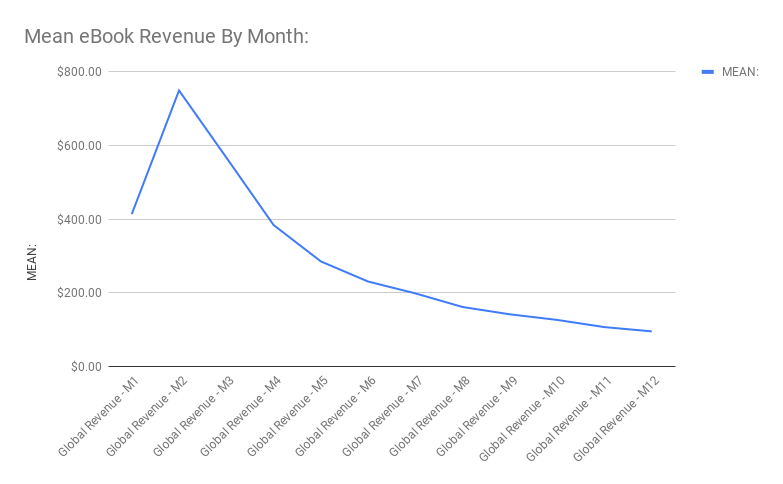 We understand that this service is not for everyone. If you want to handle regaining rights and republishing digital copies yourself, we urge you to do so. But we're here to lend you our expertise and services if that level of effort and headache just doesn't fit into your life.
We love the idea of a new reader connecting with an old book, or someone in Madrid becoming obsessed with an author they otherwise wouldn't have known existed. It's an exciting time to be an author, and in many ways, there is more monetary opportunity than ever. It's time authors of every age and experience level start taking advantage of that fact. We're here to help in whatever way we can, whether that's providing the engine for your contract management, or actually helping you through the process of re-publishing old work.